Since boarding a plane to Europe Dubai is known for its opulence, extravagant shopping, and stunning architecture, but one of the most thrilling experiences it offers is skydiving. In this ultimate guide, you'll find everything you need to know about skydiving in Dubai, such as selecting the right company, understanding safety procedures, and capturing your jump on camera. Whether you're a first-time jumper or a seasoned skydiver, the thrill of freefalling above the iconic Palm Jumeirah and Burj Khalifa is an exhilarating experience that will leave you craving more. So, strap on your parachute and prepare to take the plunge into Dubai's mesmerizing skyline for a truly unforgettable adventure.
Why Dubai is a Great Place for Skydiving:
Unique views of Dubai's landmarks and landscapes
Skydiving in Dubai offers an unparalleled perspective of the city's iconic landmarks, such as the Palm Jumeirah, the World Islands, and the Burj Khalifa. The Desert Campus also provides a captivating view of Dubai's mesmerizing desert landscapes.
World-class facilities and professional instructors
Dubai's skydiving facilities are world-renowned for their professionalism and high-quality equipment. Our instructors are certified and experienced, ensuring you have a thrilling and safe adventure in the sky.
Capturing the experience with photography and videography options
Make your skydiving experience truly unforgettable by adding a photography and videography package. Our skilled camera crew will capture your jump from start to finish, so you can relive your adventure and share it with friends and family.
Types of Skydiving Experiences in Dubai:
Skydive Dubai Palm Drop Zone
Located in the heart of the city, the Skydive Dubai Palm Drop Zone offers an unrivaled skydiving experience. From the moment you leap from the plane, you'll be treated to panoramic views of the Palm Jumeirah, the World Islands, and Dubai's stunning skyline. The Palm Drop Zone is ideal for those seeking an urban skydiving adventure.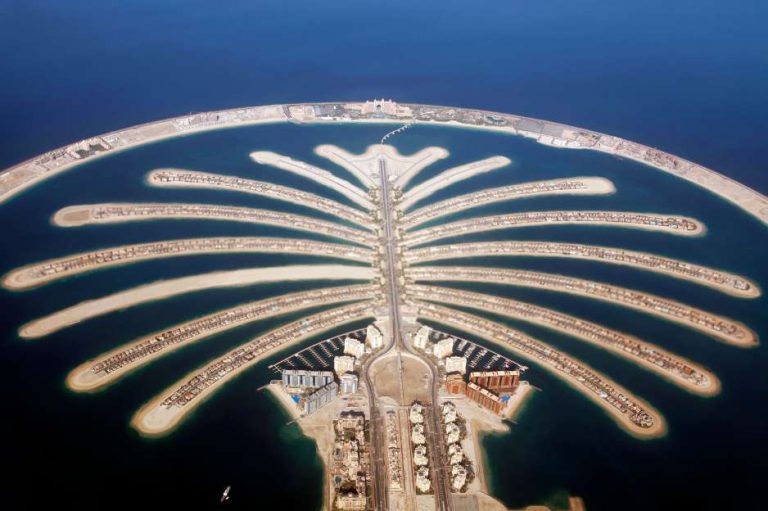 Skydive Dubai Desert Campus
For those who prefer a more serene backdrop for their skydiving experience, the Skydive Dubai Desert Campus is the perfect choice. Situated on the outskirts of the city, this drop zone offers a breathtaking vista of Dubai's vast desert landscapes. The Desert Campus is not only an excellent option for first-time skydivers, but it also serves as a training facility for those who wish to advance their skydiving skills
How to book skydiving in Dubai:
Booking your skydiving experience with Dream World Tours is easy! Simply visit our website, select the Dubai skydiving package, choose your preferred date and time, and complete the booking process. We'll take care of the rest, ensuring you have a memorable adventure in the sky.
First-Time Skydivers: What to Expect
Tandem skydiving for beginners
If you're new to skydiving, don't worry! Our tandem skydiving option is perfect for beginners. You'll be securely attached to an experienced instructor who will guide you through the entire jump, from the exhilarating freefall to the peaceful parachute descent.
Skydive Dubai height
Your skydiving adventure will take you to an altitude of approximately 13,000 feet, offering stunning views of Dubai's landscape. The freefall lasts around 60 seconds, with the parachute glide taking an additional 5-7 minutes.
Safety measures and training
At Dream World Tours, we prioritize safety. Before your jump, you'll receive a thorough safety briefing and instructions from a certified instructor. All our instructors are highly experienced and follow strict safety protocols to ensure a secure and enjoyable experience.
Dream World Tours is proud to offer a unique and exhilarating skydiving experience in Dubai. With our carefully curated package, you'll enjoy breathtaking views, professional instructors, and memories that will last a lifetime. Don't miss out on this incredible opportunity to soar above one of the world's most remarkable cities. Book your Dubai skydiving adventure with Dream World Tours today and experience the thrill of a lifetime!
Skydiving Dubai: Frequently Asked Questions
Yes, skydiving in Dubai is generally considered safe, thanks to the strict safety protocols that are in place at all skydiving centers in the city.
The minimum age for skydiving in Dubai is 18 years old. Some skydiving centers may require participants to be older than 18, so be sure to check before booking.
No, you don't need any prior experience to go skydiving in Dubai. Tandem skydiving, which involves jumping with an experienced instructor, is a popular option for first-timers.